The sheer blatancy and shamelessness of the Lobby's efforts continues to amaze....
Has Israel really been caught so flat-footed on geo-political developments? NO...It's a team effort in order to foster Hundreds of Tribes with Flags from MOSSADISTAN in Southern Sudan to China's Uighur Province ...the Kissinger Plan lives on...

Excellent:
Divide and Conquer Strategies in America
See below: In the world of CIA/MOSSAD...., the playbook never seems to change....LOL
The annual Herzliya Conference held in Israel is a useful indicator of Israeli foreign policy, national security planning, and Diaspora management. It is convened and hosted by the Institute for Policy and Strategy and held on the Campus of the Interdisciplinary Center (IDC) located at Herzliya, Israel. For Americans interested in the politics and policy of international Zionism, the presence of US "experts" is of special interest.

The just concluded 11th annual conference, February 6-9, fielded a number of US present and former officials and experts. Noteworthy officials included James Woolsey (Fmr. Director CIA), Douglas Andrew Smith (US Asst Sec Homeland Security), Alan Vershbow (Asst Secdef ISA), Robert Wexler (Fmr. Congressman D-FL), Larry Summers (Fmr. US Sec Treasury), Ronald Lauder (Fmr. Ambassador, Pres. World Jewish Congress), Gen. (ret.) James Jones, Mary-Beth Long (Fmr. Asst Secdef ISA), and Dov Zakheim (Fmr. DOD Comptroller).

US pro-Israel think tanks were represented by Danielle Pletka (American Enterprise Institute), Ayan Hirsi Ali (American Enterprise Institute), Clyde Prestowitz (Economic Strategy Institute), Ariel Cohen (Heritage Foundation), Kenneth Weinstein (Hudson Institute), Peter Berkowitz (Hoover Institution), Brian Katulis (Center for American Progress), Patrick Clawson (Washington Institute for Near East Policy), and Mark Dubowitz (Foundation for the Defense of Democracies). Judith Miller (Fmr. New York Times) represented US journalists.

The overall focus of the conference is Israeli national security. Various panels considered such topics as: "Can the World Live with a Nuclear Iran?", "The New Global Balance of Power: The Shift to the East", "All the Eggs in One Basket? America's Place in Israel's Foreign Policy", "Securing the Future of Israel and the Jewish People", "The Broader Middle East Game: The US, Europe and Regional Stability," "Is Israel Losing Europe", "Turkey a Cause for Concern?", "The Iranian Challenge: Political Alternatives and Beyond", and significantly "Dilemmas In US Policy in the Middle East: Stability vs. Democracy?".

Curiously, possible Republican presidential candidate Governor Haley Barbour of Mississippi presented concluding remarks at the panel on "International Sanctions and Iran's Domestic Arena". One wonders who wrote those remarks for him although one can understand the visit to Israel as his first primary.

The excellent and fascinating website of the annual Herzliya Conference is well worth a view:
http://www.herzliyaconference.org/eng/
The power behind the power in USA and their favorite sweet heart deal with "Court Jews", AIPAC and the "Lobby" as a whole....

It's the US Government agencies who are most benefiting from the arrangement with the "Lobby" and its "Court Jews"...always has, always will...until something BIG Gives somewhere...but there is no sign of that YET...we are still in a Honeymoon phase as far as I can see.... But, depending on how "revolutions" go in MENA and beyond....we might witness some changes to that sweet heart deal....
In the world of CIA, the playbook never seems to change...
AIPAC, JINSA and all other "Court Jewish" PACs and ORGs. are a convenient Cover for CIA, NSA, DIA, NRO, FBI, DEA, and all the other 18 US Intelligence agencies to hide behind...Hence no need to do any significant disclosures to Congress or its Intelligence Committees about any significant covert activities or extra-judicial operations spanning decades. The only exceptions, which won't be repeated anytime soon, were BCCI or Iran-Contra, to name a few ...
AIPAC is a perfect "cover", it gives overwhelming control of Congress to CIA without having to move a finger...and to Hell with the Foreign Policies of Foggy Bottom or any Justice for Palestinians, Lebanese, or Freedom, the rule of law, good governance and Democracy in faraway places...
AIPAC & Co. and all the other 18 US Intelligence agencies are priceless for CIA, and the Middle East can go to Hell as far as they are concerned, and that has been proven to be the case since the 1960s!
AIPAC, Jstreet, Jinsa, WINEP, their coteries etc. and all the NGOs, NED, Freedom House, USAID or the likes, work hand in hand with CIA and their Israeli counterparts everywhere... The world is changing fast. Will that change the equation described here above???
Has Israel really been caught so flat-footed on geo-political developments?
"All the Eggs in One Basket? America's Place in Israel's Foreign Policy" panel to discuss how to detract tail from dog? Arrogance. If I was a journalist covering US Foreign Policy I think I'd live in Tel Aviv rather than Washington...
One would think that the Lobby would anticipate some possible effects of those changes, particularly on US policy, and perhaps shrewdly engage in more subtle, sophisticated means of subverting US interests to Israel's....
http://www.jadaliyya.com/pages/index/717/the-revolution-against-neoliberalism

....
The whole Egyptian Army/security apparatus is beholden to the USIsraeli Empire...and will NOT live up to expectations. I have no doubt that the new regime will be different and better than the one that it replaces but I am not certain that Egypt will be a democracy or that the changes will be deep. Cosmetic changes might contribute to a stronger and more comfortable feeling among the general population but that would be a far cry from unleashing the potential of a truly diverse society that protects human rights and accepts dissent. I just do not think that those who have been a part of the system are going to create a radically different structure. Why should they? The Egyptian uprising should have gone all the way out to demand a complete overhaul of the whole structure....
I have often been very critical of Neoliberalism and I still am but to suggest that Neoliberalism is what led to the personal enrichment of Egyptian politicians is not fair. The corruption in Egypt, Lebanon, Syria etc.. is endemic. It is deep rooted and will not go away by changing a face here and a face there. The whole set up is corrupt and what is needed is the establishment of strong measures that will make it impossible for the public officials to benefit from the laws that they promulgate. To say that the Egyptian system is Neoliberal is to say that the Soviet system was Marxist. Both are aberrations. This is not to defend Neoliberalism but only to stress that it appears that the Egyptian politicians took advantage of privatization to bilk the Egyptian people and to accumulate personal wealth. They have become Egypt's version of Russia's oligarchs. Hayek did not want to unleash government bureaucrats but individual "animal" spirits....

But, there are quite a few more chapters in the making from Sudan to the Uighur province in China....


http://www.t-room.us/2011/02/alex-jones-talks-to-pastor-lindsey-williams-detailing-bush-srs-new-world-order-target-iran-saudi-arabi-next-oil-to-hit-200-a-barrel/

.....
The annual Herzliyah Conferences, begun in 2000, are hosted by the Interdisciplinary Center (IDC) Herzliyah. This complex houses several academic institutions including the "Lauder School of Government, Diplomacy and Strategy." Cosmetics heir, Ronald Lauder, a key IDC financial backer was handed the ambassadorship to Austria by Ronald Reagan for campaign funding services duly rendered.
Lauder, a maximalist Zionist, earned plaudits from the Jewish Diaspora by leading the charge against the Vatican's beatification of Pope Pious XII. Lauder is well known for his longstanding relationship with Bibi Netanyahu and deep involvement with the state of Israel.

In 2007, Lauder was elected head of the World Jewish Congress (WJC) defeating candidates from South Africa and Israel itself. The WJC was founded in 1936 in Geneva, Switzerland as an international organization and today spans six continents and has branches in over 80 countries.

WJC headquarters are in New York City. There are affiliate offices spread around the world : Brussels, Budapest, Buenos Aires, Geneva, Johannesburg, Moscow, Ottawa, Paris, Sydney and Jerusalem, for example. The WJC's "research institute" is located in Jerusalem.

The World Jewish Congress has the unusual privilege of what it calls a "diplomatic seat" at the United Nations. The WJC explains on its website that this makes "it unique among world-wide organizations as it enjoys a diplomatic seat in the U.N. and within many of it institutions, commissions and sub-bodies."

At the recently concluded annual Herzliyah Conference, held February 6-9, Lauder gave the introductory remarks for a keynote speaker, Lt. Gen. Gabi Ashkenazi. These two speakers then set the stage for the major evening keynote address on the theme "The Broader Middle East Game: The US, Europe, and Regional Stability." This keynote address was delivered by Gen. (ret.) James Jones of late head of Obama's National Security Council.

Jones once floated the idea that NATO troops should be deployed to the West Bank. Many do not realize that there is a strong push behind the scenes to integrate Israel formally into NATO. One wonders about this concept in the dramatically changed Middle East. Will the pro-Israel crowd step up the call for such a plan?

Outside the DC Beltway is probably little noticed that NATO has been grasping for a new "strategic concept" or "mission." Gen. Jones is there to serve.

The Jerusalem Post carried an interesting report about plans for Israel to become part of NATO on 13 January 2010: "Israeli-NATO ties have increased dramatically in recent years. Chairman of the Military Committee, Admiral Giampaolo Di Paola visited Israel in November, and the Israeli Navy has announced plans to deploy a missile ship with Active Endeavour, a NATO mission to patrol the Mediterranean Sea....

"Israel is also seeking to receive an upgraded status following the conclusion of the Strategic Concept review that will enable Israeli officials to participate in top NATO forums....Israel is a member of the Mediterranean Dialogue, which was created in 1994 to foster ties with Middle Eastern countries like Israel, Jordan, Egypt and Morocco." [5]

By 2000 NATO's Mediterranean Dialogue had expanded to include seven nations in the Middle East and Africa: Algeria, Egypt, Israel, Jordan, Mauritania, Morocco and Tunisia."
By 2008, the Mediterranean Union was created by Nicolas Sarkozy/MOSSAD/CIA.... to include Syria as well....

A year later, in the new and evolving situation, one wonders how this game to include Israel as the 29th NATO member will go. Meanwhile we await developments in the melodrama led by the Draq Queen of the Desert in Libya.

No doubt the Herzliyah Conference will have an interesting panel in 2012 on the changed Middle East and Israeli strategy....LOL.....
http://en.wikipedia.org/wiki/National_Front_for_the_Salvation_of_Libya
That CIA page on NSFL is the most important thing I've seen yet...it shows the US has been working to create assassins...and in effect have engineered the current crisis, which they now blame on Gadaffi....
Its not really Obama's coup...This was begun decades ago.... NFSL was formed in 1981 and is a Reagan project...but the president is just a figure head, behind which we have the power elite....
Here's a perfect noisy revolution....the plan goes beyond the Arab world and intends to weaken the $ and create discontent in America, to facilitate a New World Order...

http://neithercorp.us/npress/2011/02/middle-east-chaos-what-to-learn-and-what-to-expect/

"U.S. is on the verge of engineered economic collapse, driven mainly by the steady and purposeful devaluation of the dollar and our quickly expanding national debt. If you are a corporate central banking group seeking the death of the greenback as the world reserve currency, you face the very serious problem of avoiding immediate blame or retribution for your actions. What better way to escape the torches and pitchforks of the furious populace than to find a scapegoat, or a distraction even more terrifying than poverty?

Middle East turbulence provides the perfect smokescreen for the inflationary destruction of the dollar."
The Zioimperialists just sound so evil and so stupid :-)


....
Bahrain, KSA and SANG....
"... There is deepening concern about the course of developments there and about the US ability to influence them. Urgent efforts are underway to fashion an international consensus at the UN and elsewhere on the way forward. However, for all the frantic activity over Libya,
US officials believe that the intensifying challenge to the Bahrain government provides the greater threat to US interests.
As they explain it to us, State Department officials portray Libya as a crisis taking place within "understandable parameters." This requires very substantial coordination measures on such matters as the evacuation of foreign nationals, refugee flows, the imposition of sanctions and possible no-fly zones.
But Libya does not represent systemic risk to US strategic interests.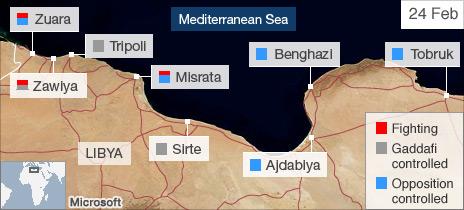 By contrast, a collapse of the Khalifa monarchy in Bahrain would have direct implications for Saudi Arabia
. The Saudis have told the US that they are prepared to intervene in Bahrain should that prove necessary to stabilize the government. This would be carried out by the National Guard (SANG) which is well tested in battle. An eventuality of this sort would prompt some very uncomfortable choices for the Administration – as one senior official put it to us, "between history and the oil price." Intensive exchanges are underway with the Saudis and Bahrainis to seek a non-violent outcome to the tensions there. US officials draw some modest encouragement that their interventions are proving effective from the relatively moderate statements of the Shia cleric Hassan Mushaima on his return from exile. These dramas in the Middle East are
obscuring what Pentagon officers privately describe to us as a "deteriorating security situation" in Afghanistan
and the continuing stalemate with Paskistan over the detention of an American official now acknowledged to be CIA's station chief....