Russia Wins In Central Asia When the Dictators Fear Revolution More Than They Fear A US Attack On Iran....


If political climate in Central Asia begins to resemble Kazakhistan's color revolution..., Putin will see his Eurasian Union become a reality....
28
12
2011
[Berdimuhamedov is flying blind, trying to navigate the treacherous currents, that are ebbing and flowing around and in his country, between two bitter "frenemies," Russia and the US/NATO. Keeping with the theme recently sounded on the same website, Gundogar, "Predetermined range of Turkmenistan," that Berdimuhamedov operates under the conviction that the US and Israel will soon bomb Iran. He therefore feels compelled to follow American dictates. This belief apparently causes him to accept Western plans to harvest Turkmen gas, as the first stage in dominating all Central Asian gas and oil. The author of that piece apparently agrees with my contention, that the Turkmen President, like all the Central Asian dictators, will turn to Russia, if Arab Spring revolutions rise-up in their neighborhood. They will fear being overthrown by very real masses of protesters, more than they will fear a hypothetical American/Israeli strike on Iran. In which case, if the political climate in Central Asia begins to resemble that seen recently in Kazakhistan, Putin might see his Eurasian Union become a reality.]
Ghost of the "Arab Spring" reached the borders of Turkmenistan.....
Events in Libya and the color revolutions in the Middle East

Political analyst Andrei Grozin about the background of the unexpected visit of Gurbanguly Berdimuhamedov to Russia …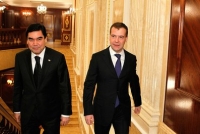 December 23, visited Moscow, Turkmen President Gurbanguly Berdimuhamedov, where he met with top officials of the Russian state. According to
the site of the Russian President
, Dmitry Medvedev and Gurbanguly Berdymukhamedov discussed current issues of cooperation between Russia and Turkmenistan. In the official records of the negotiations of Heads of State displayed a dry-officially, without any details that point to the theme of the visit Berdimuhamedov signed the agreement.
According to the
website of the Russian government
, the president of Turkmenistan met earlier with Prime Minister Vladimir Putin. "You have yet to negotiate with President Medvedev, I know, but I am very pleased that you took the time, stopped to talk on the current trade and economic relations – welcome guest, Vladimir Putin. - In this regard, I note that Turkmenistan – our old traditional partner in many areas of cooperation, of course, primarily in the gas sector. And it is pleasant to note that the volume of our trade grows: we have over the past year was a growth of 33%.This is a very good indicator. We are very pleased this positive dynamics, but fully understand and see with you, how difficult is the situation on world markets. I mean, that we have common interests as suppliers. It's very good that you and I are in constant contact and coordinating our joint efforts in this direction. "
"Let me thank you for inviting me to visit your beautiful country with a working visit, – Putin said Berdymukhamedov. - I think we will have today is a good opportunity to discuss our cooperation in many aspects, that is for the current period that was done in the future, for the future. And this occasion, I would like to congratulate you. You – a candidate for President of Russia. I wish that you won the election. "
On the question of why Moscow was visited by the President of Turkmenistan and the situation in this country, in an interview with the "Russian people's lines," said the head of the Central Asia and Kazakhstan, the CIS Countries Institute
Andrei Grozin
.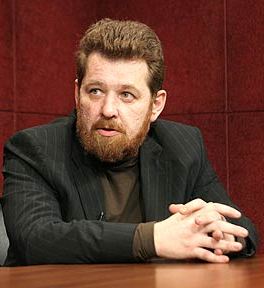 In the media there is almost no information about what they were talking in Moscow the leaders of Russia and Turkmenistan. One gets the feeling that it was just a "friendly trip." In fact, it is certainly not the case.Berdymukhamedov, of course, younger and more mobile Niyazov, but just try not to go in vain, as opposed to, for example, from the Tajikistan counterparts Emomali Rakhmonov, who goes wherever he can, if only to ask anyone for money. In Berdimuhamedov with the money more or less in order, and the basis for relations between Russia and Turkmenistan, of course, is a gas.
Obviously, during a visit Berdymukhamedov discussed namely "gas issue". As far as the discussion was conducted "in private", and hence – the absence of a leak, a variety of interpretations, etc. I believe that the Russian side is not so much worried about the construction of "Nabucco" (which was built in the foreseeable future will not be), but the construction of the Trans-Caspian pipeline as a first step towards the implementation of major projects out of Central Asian hydrocarbons to Russian territory. Turkmenistan, in addition to what has serious resource base (which in itself is interesting for the European and U.S. corporations), is a bridge actor, cycling who can uncork the whole of Central Asia and try to expand trade and energy flows from the north and east to west.
The position of Ashgabat depends very much, and in Moscow understand that. Therefore, in my opinion, Berdymukhamedov tries until recently did not give anyone any solid guarantees. Something he said, and the EU are talking about the notorious 10 billion cubic meters, of which argue for three years, but it is so vague that even European bureaucrats who support the idea of ​​"Nabucco", few believe in the marketability of these promises. Another thing is that, unlike Azerbaijan, Turkmenistan does not have the physical and geographical features to really turn around and refuse to supply gas to the north. So they have to conduct a more cautious, more balanced policy. The same Berdimuhamedov will do next – do nothing, just promise to further extend the pipe the Chinese.
Berdymukhamedov mass care and other issues, not only the possibility of pressure from Europe to Ashgabat in connection with the "theme of the gas." In February, there are presidential elections, when the easiest way to organize unconstitutional change of power or polukonstitutsionnuyu in any state. In addition, in Ashgabat, as well as throughout Central Asia, many excited bloated reports of some "Russian winter" and everything connected with it. It is clear that Berdymukhamedov came to personally clarify the situation for people that really depends on the political development of Russia as opposed to counter-elite that is trying to ride a strange vague ferment inside individual heads, and sectors of society of the capital.
Of course, Berdimuhamedov is worried about the results of the elections. Now nobody in no way certain. Probably Berdimuhamedov to Moscow to seek confirmation of the fortress of Russian power.Turkmenistan is located in a information vacuum – not only in relation to it, little is known, but little is seen from there. In Turkmenistan, very seriously concerned about the ongoing in various expert groups, talk about the fact that Russia is not highly interested in any attempt to build an alternative pipeline from Turkmenistan to the West and will resist such attempts. Against the backdrop of Russia 2006-2007, such arguments by some Russian experts could skip past the ears, but after August 8, 2008, all, including the Central Asian regimes, began to treat the Russian rhetoric is much more closely. Therefore Berdimuhamedov needed to hear the Russian position, as well as hints on how Russia will act if Turkmenistan is still dare to join the Trans-Caspian, where it is actively being dragged and because of which, if it is in this matter will be actively resisted, can emerge serious trouble in the February elections.
In Central Asia, are also seriously concerned as the "Arab spring" (and reaction to it in Russia) as well as what is happening and will happen in Afghanistan. Technologies that are used in the Arab world, perfectly fit the Central Asian soil. Of course, there is its own specifics, but as the experience of the year, clean technology to implement this kind of scenario is not difficult, especially when it comes to such vertically oriented political systems of Central Asia, which differ in the degree of Russian weakness. Our "vertical of power" still a hybrid, and, by the territorial and other factors, more adapted to the external challenges. However, any Central vertical weak in the first place, sharpened by one person when there is no alternative centers of decision-making and crisis response, and secondly – the limited capacity of a single leader (especially since two of the four Central Asian authoritarian already over 70 years, and there discussed the question of who will replace them), that does not add strength to these political structures that undermine the same way just as the Mubarak regime, it is much easier than, for example, in Libya.
Therefore, all the Central Asian rulers gradually catching up to Moscow, because they understand that moving away from Russia, they find themselves in a situation depending on the mood of the West, in other words, the Anglo-Saxon elite. Nobody does not want such a relationship, especially against the background of how the fate of even such a pro-American policy, as Hosni Mubarak.
Now they are nothing more than not believe and try to get some form of compensatory mechanisms in support of Russia. If the situation will be shaken in any of the Central, frankly, despotisms, in parallel with the worsening situation in Afghanistan, they will become more and more pro-Russian – will sign documents of a close partnership, to pursue a Eurasian Union, etc.
It should be noted another important point. The following year, Turkmenistan – Chairman of the CIS.Given the special position of Turkmenistan (Turkmenistan is not transferred to the CIS championship following in alphabetical order the applicant, taking it to yourself), it is quite revealing. It is quite possible that next year, the Turkmen foreign policy will be less neutral and more attempts to integrate into obscheevraziysky mechanism....


By JOSHUA KUCERA
There is perhaps no country on earth surrounded by more difficult neighbors than Afghanistan. When the U.S. wants to ship matériel to its troops there, it can't go through Tajikistan because the roads are so poor; it can't go through Turkmenistan because that country maintains an isolationist neutrality; and, for obvious reasons, it can't go through Iran.
Until Nov. 26, the U.S. military shipped about a third of its supplies through Pakistan, but after an American attack killed 24 Pakistani soldiers, the country cut off NATO's access to the border, and there is little indication that officials in Islamabad intend to change their minds. The U.S. military ships another third of its cargo to Afghanistan by air, but that costs so much more than shipping by land that to expand those operations would be prohibitively expensive. That leaves Uzbekistan.
Anticipating problems with Pakistan, Pentagon planners began putting together the Northern Distribution Network, a series of transit routes from Europe through the former Soviet Union. Nearly all of those routes converge at Termez, Uzbekistan, whose sleepy, dusty streets belie its strategic location: 75 percent of the network's traffic passes through the town and across the Soviet-built "Friendship Bridge" into Afghanistan. Now, the U.S. will have to ship even more military cargo through Uzbekistan, one of Washington's least likeable allies.
Ruled since the Soviet era by President Islam Karimov, it is the fifth-most corrupt country in the world, according to Transparency International, and in Freedom House's rankings of political and civil freedoms it is tied for last.
"The challenge for the United States is to strike a balance between its short-term, war-fighting needs and long-term interests in promoting a stable, prosperous and democratic Central Asia," John Kerry wrote in the introduction to a report released on Dec. 19 by the Senate Committee on Foreign Relations entitled "Central Asia and the Transition in Afghanistan."
This is a difficult needle to thread, but Washington has so far largely succeeded. The U.S. has kept the supply lines running while compromising little on its principles. The yearly State Department human rights reports have remained consistently critical, even as military cooperation has blossomed. Human rights advocates in Uzbekistan — a small, beleaguered community — still say that, for the most part, they feel like the U.S. Embassy is an ally.
But this balance is difficult to maintain, and lately there have been signs that America may be wavering. The defense budget authorization act passed on Dec. 15 by Congress removed restrictions on military aid to Uzbekistan that had been in place since 2004 because of the country's odious human rights record. Asked about that decision, Secretary of State Hillary Clinton said there had been "progress" on human rights and political freedoms, which, while not a realistic assessment of the situation, technically speaking is true.
The Kerry report makes the same claim and as evidence reaches back nearly four years to note only one such bit of progress: that the government began allowing the Red Cross to visit prisoners in 2008. But the overall picture is grim, and, if anything, getting worse.
When Clinton visited Tashkent in October, a State Department official told the reporters accompanying her that "President Karimov commented that he wants to make progress on liberalization and democratization, and he said that he wants to leave a legacy of that for his — both his kids and his grandchildren." Pressed by an incredulous reporter, the official added, "Yeah. I do believe him."
This new, more accommodating rhetoric is embarrassing. If Clinton were to say: "No, we don't agree with how Uzbekistan's government runs its country. But we need their help in Afghanistan, and so we're temporarily putting our differences aside," would anyone object? That is obviously the bargain being struck, and one that few in the U.S. or Uzbekistan would take issue with.
Wikileaked cables reporting on U.S. negotiations with Karimov over the past few years reveal a president who doesn't seem to care much about how the U.S. sees his government, but just doesn't want what he calls American "pressure and diktats" to reform.
Though the U.S. has consistently hectored Uzbekistan on human rights over the past two decades, the country has become more oppressive. The U.S.-Uzbekistan military relationship has had its ups and downs — the U.S. operated an air base there from 2001 to 2005 — and through it all, Karimov hasn't changed.
There is no question that as long as the U.S. is in Afghanistan, it will need to engage with Uzbekistan. But how it chooses to engage can make all the difference. "Achieving our security goals and promoting good governance and human rights are not mutually exclusive," the Kerry report says. "In fact, security and political engagement are complementary strategies that are more likely to be effective when pursued together."
The report doesn't back up that assertion, and in the case of Uzbekistan it plainly isn't true. No sort of political engagement will work, and the irony is that the more U.S. officials believe it, the more likely they are to compromise their principles. In this case, saying nothing may be the best way for the U.S. to stay true to what it believes.